Choose, Change & Become
Choose to lead from within and make choices rooted in values.
Change our attitude and approach - from ego to humility - in tasks and relationships.
Become an example of stability and resilience to inspire and sustain positive action.
What is the approach that will inspire and motivate action in a world of indifference? Choose, Change & Become is our international programme for developing youth leadership. The programme aims to support young leaders in developing their inner capacity to make values-based choices and decisions that lead to positive, constructive action for their societies and the world.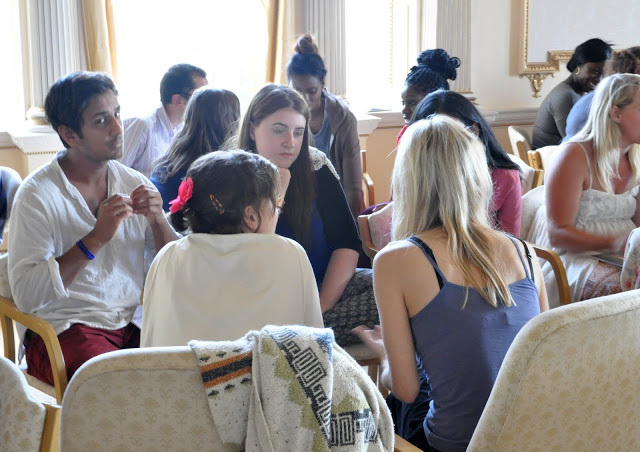 This is a collaborative experience, a 'learning laboratory', involving personal reflection, creative expression and shared leadership in the creation of a sustainable learning environment. The capacity to learn is at the root of all development – individual, societal and global.
Programmes are organised at a national level and customised for each group and location.
CCB programmes around the world
South Africa
Choose, Change & Become, Dunning Retreat Centre, Merrivale
A collaborative effort of numerous concerned stakeholders, who share the same passion for encouraging youth development, this programme was arranged by Brahma Kumaris in conjunction with PMB Department of Health (Primary Health Care Division).
The young leaders were committed to making a positive change in their lives and actively seeking to bring positive change to their communities and societies as well.
The participants were led on a deep inward journey, in which they had the opportunity to:
discover their unique strengths,
develop self-respect,
make choices which were in alignment with their innate wisdom,
identify the changes necessary to make their choices a practical reality.
UK
Awakening Inner Power and Unmasking the Hero Within, Global Retreat Centre, Oxfordshire - Watch our video and visit our blogspot.
USA
Brave Heart - the Courage to Love Unconditionally, Peace Village, New York State,
The lion was the chosen symbol for the Brave Heart theme. Watch Video (explaining meaning).
During the retreat, it was exceptionally heart-warming to witness the participants' interest in meditation and soul awareness, and their many questions reflected their willingness to go deeper into other spiritual aspects.
Reflection
What do I choose to change in myself?
Become aware of the positive quality that would help bring this change. For the next 21 days focus on bringing this positive quality more into your life and log your experience in a journal each night. Consider any small positive change a success.